Leman | Thank you all the way
The 7th Leman China Swine conference and 2018 World Swine Industry Expo was ended at China·Zhengzhou International Convention and Exhibition Center on Oct.21th 2018.The success of Leman conference is inseparable from the cooperation units, support units, all the friends who pay attention to leman conference and the staff on site support and efforts.Here, the organizing committee of leman conference would like to thank all the enterprises and units that have helped the conference, all the guests who have attended Leman China Swine conference and 2018 world swine industry expo. Thank you for your company along the way.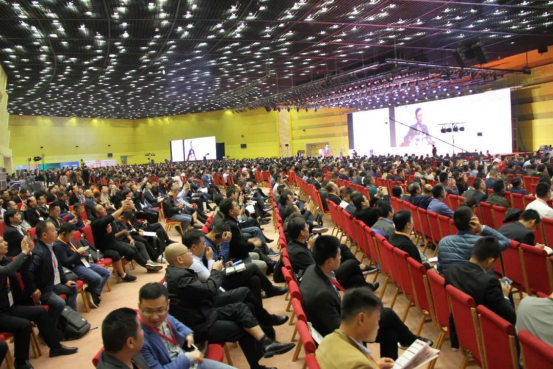 Thanks for the wonderful sharing of international speakers
Thank John deen, Joe Connor, Scott dee, Keith Erlandson, Richard A.French, Clayton Johnson, John Patience, Olivier Prigent, Daniel Rock, Rebecca Robbins, Jean-Pierre Vaillancourt, Hans Aae, Torben Skov Ancker, Marriet van Engen, John Carr, Paulus Verboeket fellow international experts such as the arrival of the wonderful report and share with us at the conference.Thanks in particular to Ms. Rebecca Robbins, who continued to share her research despite her discomfort.



Thanks for the wonderful sharing of domestic speakers
Thanks to Cai Xuehui, Liu Xiangdong, Liu Congmin, Qiu Huaji, Wang Xingchen, Yan Zhichun, Chen Qinhui, Wang Ke, He Jingxiang, Liao Yonghong, Li Zhonghua, Tang Li, Wen Zhibin, Zhang Wenjie, Zhao Fuxiang, Zhou Rui and other domestic experts for their excellent speeches.





        Thanks for the support units, co-organizers of the strong support
We would like to thank the co-organizers, the China Association for the promotion of International Agriculture Cooperation , and the Henan Pig Industry Association, as well as the support Muyuan Foodstuff Co.,Ltd., Jilin University, Nanjing Agricultural University and Henan Provincial Yuda Animal Research Institute for their strong support.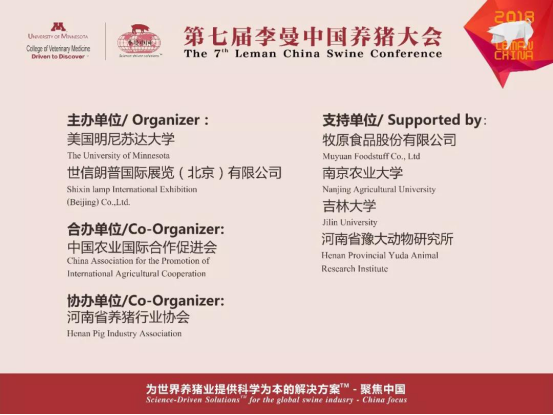 Thanks to all the sponsors
Thanks to sponsors such as Boehringer Ingelheim, Zoetis, DBN Group, Ceva, Bioscwin, Pdmix, Youben Vaccine, Yingzi Technology, MSD, Henan Muxiang  for their sponsorship and support, as well as CHINA ANIMAL HUSBANDRY INDUSTRY CO., LTD, Ringpu, CHR HANSEN, Weifang Huaying Biotechnology co. LTD,Shenya Agriculture&Animal Husbandry Technology co. LTD;Newhope Liuhe, Tiankang Biology Co., Ltd,  Zhejiang Hisun Animal Healthcare Co.,Ltd, Ganzhou Aode Feed Technology co. LTD,Wuhan Huayang Animal Health Group, Shanghai xinnong, hangzhou ailimai;Wuxi zhengda, shenzhen runnong, weiboxin, boxin shares;Italy alsko, ruojiapao, jiangxi paoni;Sheng tai, hebei expeditionary, shandong dexin;Tai nong, century yuan heng, can laiwei;Support and support from sown group, DSM, huisheng biological and huizhong biological.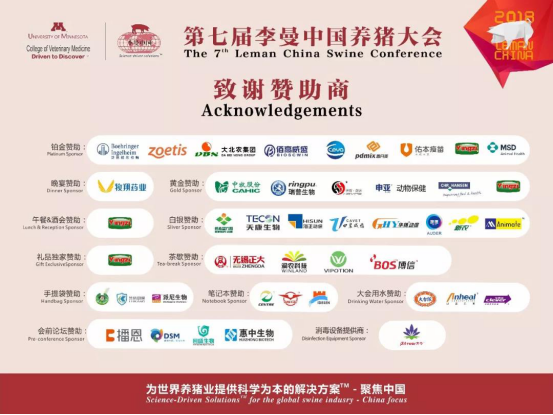 Thank you to all the delegates, visitors and friends who follow Leman China Swine Conference
Thanks for the support of more than 500 participating enterprises, the presence of more than 5,000 participants, and the support of hundreds of thousands of swine industry professionals to Leman China Swine Conference in the past seven years.
Thank you to all the members of the Leman China Swine Conference translation team

Thank you to the translation team of Leman China Swine Conference, the unsung behind-the-scenes hero, for your hard work behind the scenes, zero gaps to make the communication smooth.Communication without borders. Thank you.
Thanks for the help of Zhengzhou International Exhibition Center
Thanks to the Zhengzhou International Exhibition Center for all the help it has provided for the conference. Thanks to all the friends who have paid attention to and supported Leman China Swine Conference.We will meet in golden autumn next year!
2018
 Leman China Swine Conference